We're back at the Pasadena Lit Fest for 2019, and we're going to be celebrating our 30th show! Whether you've been on this journey with us since the beginning in 2013, or are only hearing about us now, come see why Shades & Shadows is the biggest, baddest, dirtiest name in town for sci-fi, fantasy, horror, noir, and "what the hell did I just read?" fiction! We love being part of the Lit Fest, so we're bringing out some pretty special names for this event. Our lineup includes some returning favorites and some new names to the show. You're going to love it.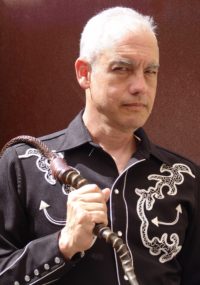 ---
Maria Alexander is a produced screenwriter, games writer, virtual world designer, award-winning copywriter, prolific fiction writer, and poet. Since 1999, her stories have appeared in acclaimed publications and anthologies. Her debut novel, Mr. Wicker, won the 2014 Bram Stoker Award for Superior Achievement in a First Novel. Her breakout YA novel, Snowed, was unleashed on November 2, 2016, by Raw Dog Screaming Press. It won the 2016 Bram Stoker Award for Superior Achievement in a Young Adult Novel and was nominated for the 2017 Anthony Award for Best Children's/YA Novel. When she's not stabbing someone with a foil or cutting targets with a katana, she's being outrageously spooky or writing Doctor Who filk. She lives in Los Angeles with two ungrateful cats, a Jewish Christmas caroler, and a purse called Trog.
---
Wesley Chu's best friend is Michael Jordan, assuming that best friend status is earned by a shared television commercial. If not, then his best friend is his dog Eva who he can often be seen riding like a trusty steed through the windy streets of Chicago. Unfortunately, Chu's goals of using Hanes underwear commercials to launch a lucrative career following in Marky Mark's footsteps came to naught. Despite phenomenal hair and manicured eyebrows, his inability to turn left led his destiny down another road. Instead of creating new realities with his skills as a thespian, Chu would dazzle audiences with his pen. Well, it's a computer really, but the whole technology thing really sucks for metaphors. He had spirit fingers maybe? In 2015, Wesley Chu won the John W. Campbell Best New Writer Award. Chu's debut novel from Angry Robot Books, The Lives of Tao, earned him a Young Adult Library Services Association Alex Award and a Science Fiction Goodreads Choice Award Finalist slot. His latest series, The Rise of Io, published by Angry Robot Books, features a con-woman with an alien cohabitation problem. He is currently co-writing a Magnus Bane book titled The Red Scrolls of Magic with Cassandra Clare. Wesley lives in Los Angeles with his wife, Paula, his son, Hunter, and Eva the Airedale Terrier.
---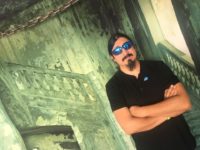 Lucio Rodriguez once punched a man so hard he died; Lucio has very fragile hands. Don't worry, he got better.
He has worked as an Entomologist for the past decade at UC Riverside, rearing fleas, cockroaches and moths for all your science needs, and doing other science-y stuff.
Lucio received an MFA in creative writing from UCR's Palm Desert campus; he has stories in 18 Wheels of Science Fiction and CEA Greatest Anthology Written. He lives in Riverside, CA with his wife and two daughters, as well as two of his multiverse refugee selves. Before you go thinking this lets him get more work done, rest assured, it's mostly just fighting over the bathroom.
---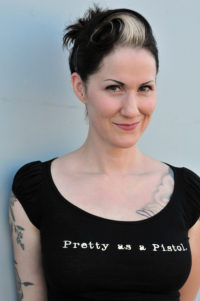 Christa Faust grew up in New York City, in the Bronx and Hell's Kitchen. She's been making stuff up her whole life, and spent most of her teen years on endless subway rides, cutting school and scribbling stories. After High School finally had enough of her, she worked in the Times Square peep booths and later as a fetish model and professional Dominatrix. She sold her first short story when she moved to Los Angeles in the early 90s. After nearly 20 years in her beloved adopted city, she still considers herself an expat rather than a native. She's an avid reader and collector of vintage paperbacks, a Film Noir enthusiast and a Tattooed Lady. She writes primarily Hardboiled crime fiction, but also does work-for-hire media tie in novels. She doesn't plan to stop any time soon.
---
Hosted by Xach Fromson. Saturday, May 18th 7:30 p.m. at the Pasadena Playhouse! 39 S. El Molino Ave Pasadena, CA 91101 Books will be sold by Vroman's Bookstore.