It's summer. Everything is on fire, melting, or exploding. Everybody is one power outage away from convincing themselves we've entered the world of Mad Max.
Which, hey, isn't far off from what we're offering. Leave reality behind for a while. Come see what we have on tap as we bring in our mix of award winning authors and emerging voices in the literary scene! It's a genre experience like no other!
Paul Tremblay is the author of DISAPPEARANCE AT DEVIL'S ROCK and the award-winning A HEAD FULL OF GHOSTS, both published by William Morrow. His other novels include THE LITTLE SLEEP, NO SLEEP TILL WONDERLAND, and the YA novel FLOATING BOY AND THE GIRL WHO COULDN'T FLY (co-written with Stephen Graham Jones).
He is the author of the short story collections COMPOSITIONS FOR THE YOUNG AND OLD and IN THE MEAN TIME. His essays and short fiction have appeared in the Los Angeles Review of Books and numerous year's best anthologies. He is the co-editor of four anthologies and is a member of the board of directors for the Shirley Jackson Awards. He lives outside of Boston, Massachusetts, has a master's degree in Mathematics, has no uvula, and once drove around the town of Burlington with Glen Hirshberg in his trunk. True story. You can find him online at
www.paultremblay.net
.
---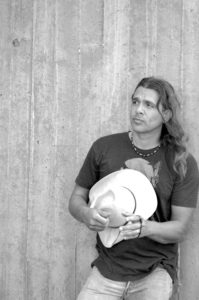 Stephen Graham Jones is the author of sixteen novels, six story collections, and more than 250 stories. His current book is the werewolf novel Mongrels (William Morrow). Stephen's been the recipient of an NEA Fellowship in Fiction, the Texas Institute of Letters Jesse Jones Award for Fiction, the Independent Publishers Awards for Multicultural Fiction, three This is Horror awards, and he's made Bloody Disgusting's Top Ten Novels of the Year. Stephen teaches in the MFA programs at University of Colorado at Boulder and University of California Riverside-Palm Desert. He lives in Boulder, Colorado, with his wife, two children, and too many old trucks. @SGJ72 / demontheory.net"

---
Vesta Vaingloria is a Los Angeles native whose writing work concerns the subjects of gender, sexuality, aesthetics, deviance, and the confusing condition of being a human person. She earned her MFA in writing from CalArts in 2014, and shortly thereafter, founded Wilde Words, a monthly Oscar Wilde themed reading series. Her work has been published in literary journals Writing for a Real World, The Truth About the Fact, and Next Words Anthology, as well as by Which Witch Press and The Poetry Society of New York. She is also a performance artist and member of the New York based Poetry Brothel, with whom she has just performed for four days and nights at the Electric Forest festival in Michigan.
---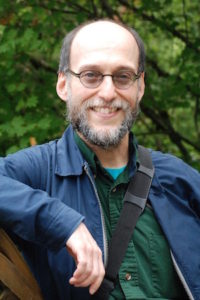 David D. Levine is the author of novel Arabella of Mars(Tor 2016) and over fifty SF and fantasy stories. His story "Tk'Tk'Tk" won the Hugo, and he has been shortlisted for awards including the Hugo, Nebula, Campbell, and Sturgeon. Stories have appeared in Asimov's, Analog, F&SF, Tor.com, numerous Year's Best anthologies, and his award-winning collection Space Magic. You can find him on Twitter as @daviddlevine and his website is daviddlevine.com
---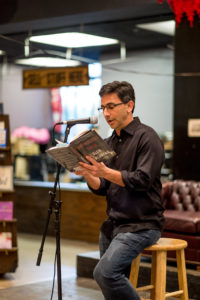 Glen Hirshberg:
Good Girls
, the sequel to Glen Hirshberg's 2012 novel, 
Motherless Child, 
has just been published by Tor. Glen is also the author of two previous novels (
The Snowman's Children 
and 
The Book of Bunk
) and three story collections (
The Two Sams, American Morons, 
and 
The Janus Tree). 
He is a three-time International Horror Guild Award winner, five-time World Fantasy Award finalist, and has also won the Shirley Jackson Award. Glen writes, teaches, and lives in the Los Angeles area with his wife, son, daughter, and cats. Visit him online at 
www.glenhirshberg.com
, and follow him on Twitter (@GlenHirshberg).
Hosted by Xach Fromson and Lauren Candia!
Readings begin at 8:00 p.m.
Burbank, CA 91505